It is not necessarily easy to find a walking path adapted to your level, to your physical condition. We have listed for you various hikes in Auvergne, in the Sancy sector as well as that of the Puys chain.
You will find hiking sites suitable for everyone. Make your choice of route according to duration and mileage:
A few kilometers for families, for novice walkers, for a digestive walk, etc.
Hikes in Auvergne between 4 and 13 kilometers, ideal for all those who wish to have fun, discover the surroundings, nature, local heritage.
Finally, hiking sites requiring a certain physical condition and a certain preparation due to their distance and their fairly significant elevation.
These walking trails are all maintained and marked. You will thus evolve without getting lost.
So much to see...
60

offers
What equipment to go hiking in Auvergne?
Beginner or experienced, to walk a mountain walking trail it is important to be equipped. A good pair of walking shoes with crampons is essential, trousers, a t-shirt, long sleeves depending on the weather, or even a jacket. It is important to leave with a hiking bag in which you will place a bottle of water, sunscreen, a hat.
A guide app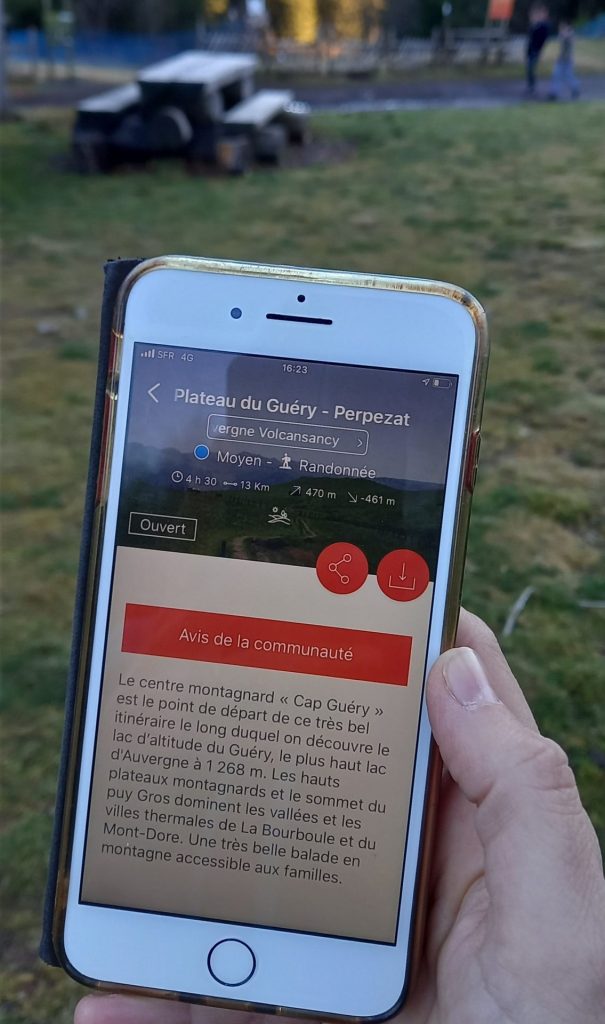 Mhikes is a free app. GPS navigation is reliable even outside network coverage since once downloaded, the routes are available offline.
In addition, Mhikes provides you with content on the environment (nature, heritage).
Download the application from the App Store (Iphone) or Google Play (Android) on your smartphone
Create your account (with your email or with Facebook)
Choose your course on the map and download it (before going to the course)
Let yourself be guided to the start of the hike, then throughout your journey
To date, nearly 50 routes (out of the 27 municipalities of the Auvergne VolcanSancy territory) are referenced on the Mhikes application:
hikes lasting from 30 minutes to 5 hours
mountain bike routes
cycle route
Other courses are added regularly.